Goblin Trickster
Level
1 (Min), 31 (Max)
Rarity:
Common
Type:
Support
Fire resist:
0%
Ice resist:
0%
Lightning resist:
0%
Poison resist:
25%
Light resist:
25%
Shadow resist:
0%
Stun resist:
0%
"A minor magic user"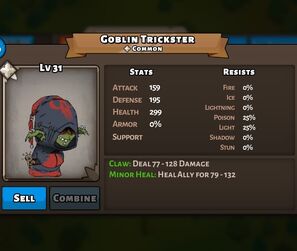 Appearance
Edit
Campaign 1: A Shadow Grows
Campaign 2: The Poisoned Well
Claw: Deals physical damage to a single target
Minor Heal: Heals an ally
Goblins Tricksters have low health and weak stats. Any hero with an alright attack number can kill them instantly, or fatally wound them.
Its Claw skill deals physical damage, meaning heroes with good armor can decrease its damage potential.
Community content is available under
CC-BY-SA
unless otherwise noted.