Odachi is the first weapon of the Common class in which one can make a graph, for the class Two Handed Slashing, but can also fall randomly into any random battle, except in the Wizard Tower.
About Odachi
Edit
Being an extremely fast sword in attacks, very fast even being the most common weapon of attack of the common class weapons. In fact, it even has larger attacks than its Super Rare versions, with much greater defense and damage as well, but within the range of the weapon class.
Even though Odachi does not have any special properties, it is even better than its unusual versions, although Odachi's defense and damage are still smaller too, very ideal for all heroes who use this weapon and can keep it until they can graphing rare class weapons.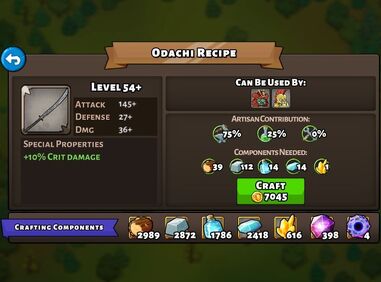 Since the weapon costs a lot of money and iron, it is not recomedavem grafitar the weapon, much less to make the conquest of "master in grafitar weapons", there are common weapons that cost much less resources to make that conquest.
And as the weapon falls a lot in the field, you can accumulate enough of this weapon and make a good money with it, where by depedendo of the level of the weapon, you will receive up to 1000 Golds, much more more rewarded than weapons above the "unusual class".
Originally it should be called "Katana" because it is a replica literally of the Japanese Katana, but with the Perfect Katana already exists for another class of weapon, then it was named this one, honoring a long Katana used by Japanese in it was old.
Community content is available under
CC-BY-SA
unless otherwise noted.