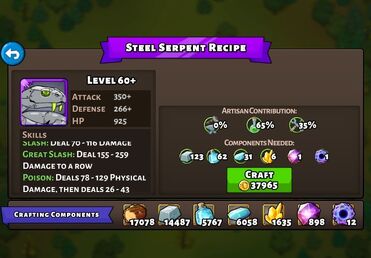 Steel Serpent is an Super Rare crafting recipe for Machines.
It is the most advanced recipe among Damage Dealer machine types, but also you can buy in the Guild Store.
Though the steel serpent may seem at first a valuable machine to have due to its super rare rarity, it actually has only average damage stats, and its attack and defense are rather low. Compared to the giant snake monster, it has the same stats but also with great slash, which is the steel serpent's only decent skill. Also, do not judge the steel serpent's stats by the picture above, as it is level sixty which is very high.
Community content is available under
CC-BY-SA
unless otherwise noted.