Vampire Thrall

Level
25 (Min), 60 (Max)
Rarity:
Common
Type:
Tank
Fire Resist:
0%
Ice Resist:
0%
Lightning Resist:
0%
Poison Resist:
0%
Light Resist:
0%
Shadow Resist:
0%
Stun:
20%
Vampire Thrall‏‎
is a common class monster that is found in many campaigns, story mode and also in special campaigns for heroes, or Boss, or some other event.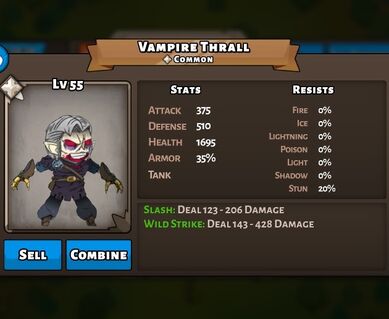 Appearances
Edit
Description
Edit
Even though they are vampire class, they do not have any kind of protection against magic, even shadow. They are easily defeated against any hero with a medium level and good equipment.
Vampire Thrall also drops a lot when you are close to their guard level max, but their attacks and defenses are extremely low. However, they have a good life and also a great armor, being able to withstand enough physical attacks and can be used in the first Stages of the Witch and Berserker campaigns, but it is not very recommendable as a defender in the Tower, unless your level is below 50 and has torrents of ice to lessen the attacks of your opponents.
Community content is available under
CC-BY-SA
unless otherwise noted.